Homeschool


Music Curriculum
Online education is a growing trend with homeschoolers
Online music lessons is a convenient option for busy parents and homeschool families. Gentle Guitar™ is the first to offer one-to-one online music lessons for young children. Without leaving your house, your child can explore a music curriculum rich with music theory, songwriting and guitar playing.
Kids Get Creative at Home!
7-year-old Aaron from Chicago, USA, has just added a song to his guitar portfolio of original songs! The song is composed using 6 notes on the first 2 strings, and stars naughty monkeys. Great job, Aaron!! If your child is homeschooled, like Aaron, you too can add activities like these into your curriculum with the Gentle Guitar™ kids music lessons!
Try your first music theory lesson online for free!

Gentle Guitar was really the only guitar tuition service or brand that I came across that's designed specifically for children.  I love the fact that they specialize in teaching online, but that, more importantly, they know how to teach children online.  This is not a skill set that a lot of companies have, believe you me!
— Brandi Jordan (Owner of MamatTeaches.com) .

We found out about Gentle Guitar through Google Search and the tipping point for us was that Gentle Guitar offered Skype lessons. It provided the most practical option that fits with our busy schedule. The best part is the time I get to spend with my son. I have always wanted to learn to play and now I have a great reason to achieve this and also bond with my boy. It feels like my son and I are in control and Gentle Guitar provides the guidance to keep us on track. The progression in learning is just right for us. I find that it also helps me in teaching my son when we are left to our own devices. I have a feeling that Isaac and I will be teaching my daughter when she is able to get her hands on my sons current guitar. Going through the programme will assist us in passing on the great lessons we have received. — Beaufa B. (Parent)
Gentle Guitar™ is fun and professional Skype guitar lessons for homeschooled kids. All you need is an Internet connection and a desire to give your child a quality music education. Children under the age of 10 must be accompanied by a parent, or a supervising adult.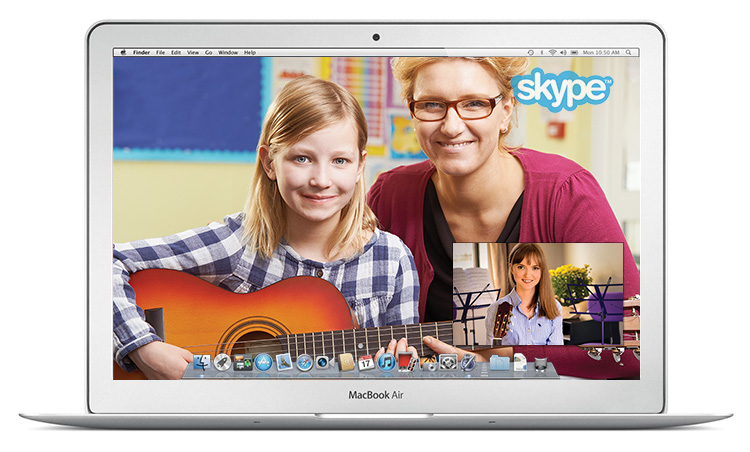 Book a free trial lesson now!
The weekly 30min lessons are taught by a specialized teacher directly to you and your child via Skype. You get step-by-step instruction and instant feedback. You don't need any prior music experience to make professional music lessons a part of your homeschool curriculum. But if you are musically savvy, that's great! The Gentle Guitar Method™ will give you and your child flexible and fun lesson plans.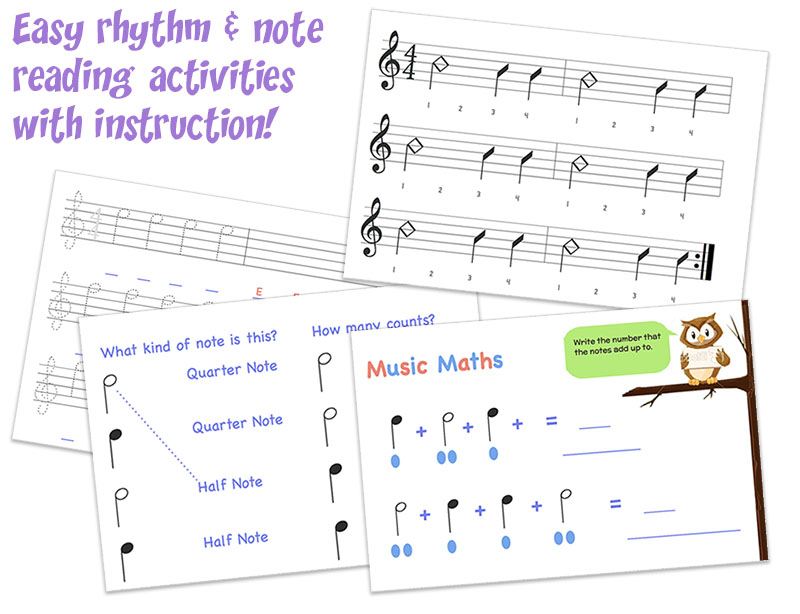 I read about the program and thought it sounded like exactly what I was looking for. Lessons with a live person from the comfort of home!! The flexibility to schedule the lesson within our normal homeschool hours, not having to leave the house, and the benefit of live lessons. I really felt like it incorporates so much more than a typical guitar lesson would. I know I, like most homeschoolers, am always looking for the most content rich programs for my kids. What I love about the Gentle Guitar approach is that it is more than just learning about chords on the guitar. With the online instruction and the workbook kids learn about music theory too! They are introduced to whole notes, half notes, and quarter notes. They practice drawing the Treble Clef, they learn about rhythm and how the notes fit together in a measure. The workbook even includes exercises where they trace and draw notes and practice music maths adding together note values. These pages are a great way for little ones to practice their math and writing without even realizing it!

— Krista (Krista shares homeschooling ideas at werefarfromnormal.com) .
I've taught all over the world!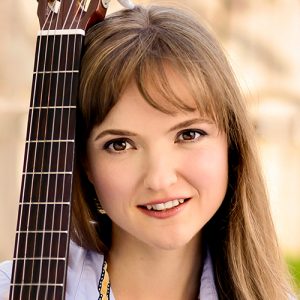 Hi, I'm Inga Hope, the founder and creator of Gentle Guitar™. I started the company in 2013 in Auckland, New Zealand, out of my passion for teaching music to young kids. Today, our head office is in the heart of Copenhagen, while we teach guitar and music theory to kids around the world. Over half of our students are homeschooled all over the USA. It wasn't initially my plan to design lessons for homeschooled kids, but it turns out that our format works great for smart kids and busy homeschooling families! As a result, my teachers and I, have several years of experience teaching online music lessons to homeschooled kids.

Inga, with Gentle Guitar, has a very gentle teaching style that immediately attracted my initially shy girls.  As a fellow music teacher, I also appreciated the precision with which she expected my daughter to read her beginning rhythms. By the way, Gentle Guitar, is one of the few online music lessons that I found geared primarily toward younger elementary students.  So, if this is something you are considering for someone in that age group, I would seriously consider starting here.  They teach you basic musical notation that can easily be transferred later on to nearly any instrument, not just guitar.  Oh, and you don't even have to have a guitar for your first few lessons, which you can try out for FREE.
— Kathy (Kathy is a homeschool mom and blogger at cornerstoneconfessions.com) .
Book a free trial lesson now!